Banquet Overview
On Monday 4th April 2022, we once again gathered at Blair Castle, the ancient home of the Earls and Dukes of Atholl, and the spiritual home of the Keepers of the Quaich.
The Grand Master the Duke of Argyll presided over the Ceremony and Banquet.
The top table hosted the Duke of Argyll, the Duke and Duchess of Fife, the Earl and Countess of Dalhousie, the Earl of Erroll, the Earl and Countess of Hopetoun, the Earl and Countess of Moray, Viscount and Viscountess of Thurso and Bertie Troughton, alongside the Lord Bruce, and our new Chair Ian Smith.
During the evening we recognised the outstanding career of Sir Geoff Palmer OBE with the award of Honorary Keeper. Finally, we were delighted to welcome our Guest of Honour, Major General Alastair Bruce OBE and his husband, Stephen Knott.
At the 63rd Ceremony of Induction, there were six new Masters honoured and forty-three Keepers of the Quaich from fifteen countries around the world.
The Masters were Patrick Castanier, Pernod Ricard Thailand, Gavin Hewitt CMG, The Artisanal Spirits Company, Brian Kinsman, William Grant & Sons Ltd, Edward Pilkington, Diageo North America and Gavin Smith, freelance author and journalist.
For the first time in our history, we posthumously awarded Jason Craig, Brand Director of Highland Park Edrington the role of Master of the Quaich for his service and dedication to the Scotch Whisky Industry
.
All Attendees

Guests not attending the Ceremony of Induction are hereby invited to join us as follows

New Masters and Keepers with Accompanying Guest

Guests attending the Ceremony of Induction.

Due to space constraints only New Masters and Keepers with agreed guest are hereby invited as follows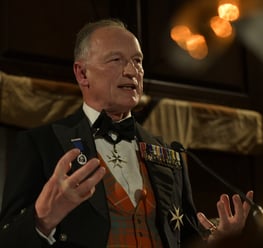 Major General Alastair Bruce of Crionaich OBE VR DL
Governor of Edinburgh Castle
Major General Alastair Bruce was commissioned into the 2nd Battalion Scots Guards in 1980 and saw active service on peacekeeping operations in Northern Ireland and in the Falklands War of 1982. He left the Army in 1983 re-joining as a Reservist in 1993, taking command of the Media Operations Group in 2004. He assumed office as The Governor of Edinburgh Castle on 24 June 2019.
In a parallel career, Alastair was appointed the Royal, Constitutional, and Religious Commentator for Sky News and has covered State occasions including Royal Weddings, The Queen's Jubilees, and most recently, the funeral of HRH The Duke of Edinburgh.
He has also been a historical adviser on television drama productions such as Downton Abbey, The Young Victoria and The English Game. A successful author, his books include Days of Majesty, Keepers of the Kingdom and The Queen's Birthday Parade.
In 1998, he was appointed Fitzalan Pursuivant of Arms Extraordinary by Her Late Majesty The Queen with responsibility to support Garter King of Arms. In 2004, he became an Equerry to their Royal Highnesses the Earl and Countess of Forfar. He is actively involved with the Army Multicultural Network team and is the Army Race Advocate.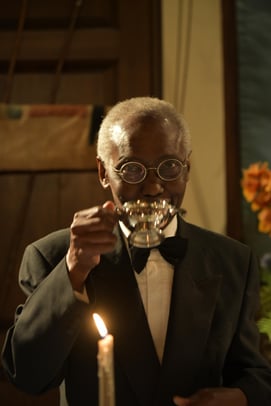 Sir Godfrey Henry Oliver Palmer OBE
Professor Emeritus at Heriot-Watt University Edinburgh
Sir Godfrey was honoured by Keepers of the Quaich for his outstanding contribution to the Scotch Whisky Industry. Sir Geoff's academic research is credited to the discovery of the barley abrasion process during his time as a researcher at the Brewing Research Foundation from 1968 to 1977.
In 1998 Geoff became only the fourth person, and the first European, to be honoured with the American Society of Brewing Chemists Award of Distinction. He went on to become a Professor emeritus after he retired in 2005 from Heriot-Watt University Edinburgh and was later Knighted in the 2014 New Year Honours List.
.
Drams Menu
JOHNNIE WALKER BLACK LABEL SHERRY FINISH
This expression of Johnnie Walker yields sweet fruit and spice from distilleries like Clynelish in the Highlands and Cardhu on Speyside. It also has delicious notes of creamy toffee, honey-like sweetness and vanilla from Lowland distilleries including Cameronbridge and Glenkinchie which are wrapped in a cloak of smoke from Caol Ila on the Islands. Johnnie Walker Black Label Sherry Finish is all the flavours of Johnnie Walker Black Label drizzled with the sweetness of figs and plums that come from the sherry seasoned casks.
HAZELWOOD 25YO
At the top of the House of Hazelwood range sits this lovely 25YO expression of blended Scotch Whisky. The nose yields caramelised brown sugar, accompanied by vanilla, maple syrup, soft spice and hints of fresh mown grass. Citrus notes and orange blossom linger in the background complemented by aromas of honey drizzled pancakes. An elegant combination of vibrant spice with honey and vanilla sweetness burst on the palate. This develops into a long dry finish, the influence from the new oak.
CHIVAS REGAL 18 YO GOLD SIGNATURE
Created in 1997, Chivas Regal 18YO Gold Signature is a firm favourite among many whisky aficionados. Its complex and wide-ranging flavour profile has made it an iconic whisky blend, featuring no less than 85 flavour notes in every sip! The nose delivers an enticing harmony of rich, indulgent and multi-layered aromas with hints of dried fruits, buttery toffee and dark chocolate. The palate then erupts into an orchestra of velvety, dark chocolate with elegant floral notes and a gentle wisp of sweet, mellow smokiness, all culminating beautifully a seductively long, warm and deeply satisfying finish.
TAMDHU 12YO
Tamdhu 12YO has been 100% matured in first fill and refill American and European oak Oloroso sherry casks from the cooperages and bodegas of Jerez, in Spain's 'sherry triangle'. The result is a rich single malt whisky that delivers a wealth of complexity, with classic sherry oak depth and natural colour. The nose is rich and enticing, iced cinnamon rolls, orange boiled sweets, fresh sweet oak with raisins and the faint hint of mint. The palate has a silky texture that coats the mouth with banana, berry jam, malt biscuit and classic sherry with flavours of cinnamon, dried fruit and banana. The finish is pleasantly long and balanced with ground spice, dried fruit and soft Scottish tablet finally unveiling the merest wisp of peat smoke.
HIGHLAND PARK CASK STRENGTH – RELEASE NO. 1
This single malt expression hails from the island of Orkney where the distillery malts a proportion of their own barley using local peat. It has been matured predominantly in sherry seasoned American oak casks of different ages, and hand selected by Highland Park Master Whisky Maker, Gordon Motion. This expression is bottled 'straight from cask' to amplify key strands of the whisky's signature flavour profile, it is also non-chill-filtered to present the whisky in its purest form. It is robust and intense with an extraordinary depth, complexity and balance and the colour, naturally cask driven, is warm and golden.
A Memory to Cherish
Banquet
Photography
A full selection of banquet imagery is available to download or purchase.